On the occasion of the World Health Day 2018, the Association of doctors of Macedonia held a solemn gathering on which the Minister of Health, Dr. Venko Filipce addressed.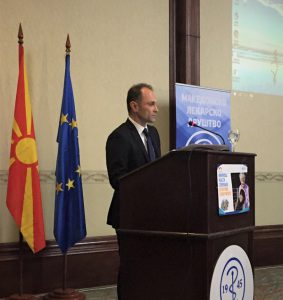 He emphasizing the commitment of the Government and the Ministry of Health of Republic of Macedonia  in the promotion of public health and stressed that one of the main priorities is the modernization of the immunization schedule.
Minister Filipche pointed out that more serious reforms are underway, with focused on: raising the quality of health services for patients by providing access and opportunities for everyone and everywhere.
Link -> http://zdravstvo.gov.mk/odbelezhan-svetski-den-na-zdravjeto/